Des Butler Memorial Cycle 2021
September 26, 2021
€20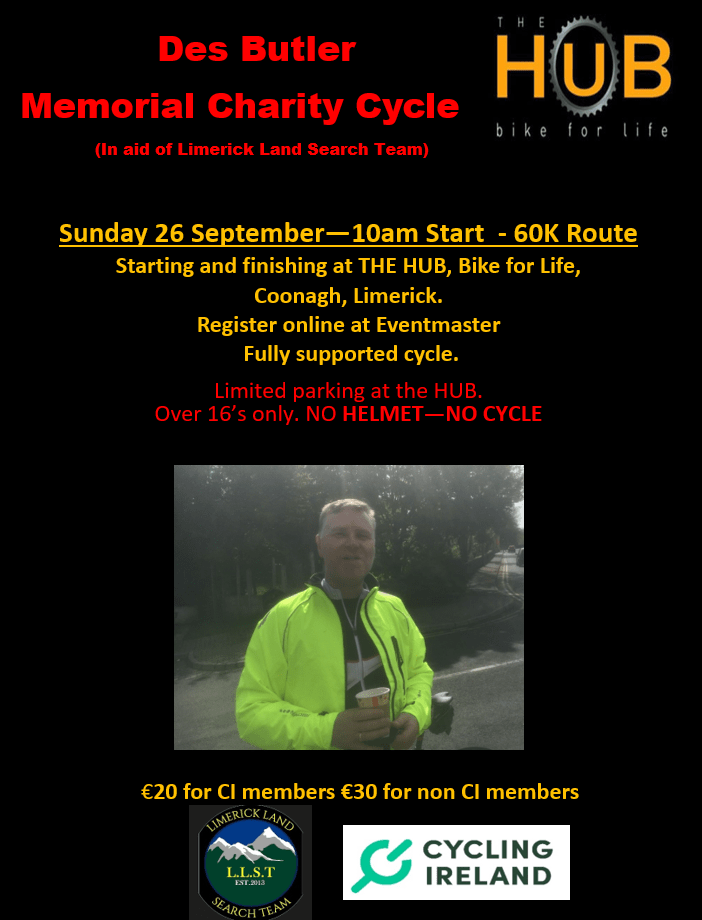 The Hub cycling Club are delighted to announce that the Des Butler Memorial Cycle 2021 will take place on the 26th of September in aid of Limerick Land Search Team. Using the same route as previous editions of this Cycling Ireland approved event, it is suitable for all club cyclists and provides a good stretch of the legs but nothing too strenuous!!
This years charity is Limerick Land Search Team, who provide voluntary search teams in aid to the blue light services when called upon.
Join us on the 26th at 10am in remembering a great person, friend and club mate who loved his cycling and always kept people smiling and help us raise some funds for this very deserving group.
For more info check us out on Facebook, scroll down for links

DISCLAIMER The information provided by IrishSportives.ie is, the best of our knowledge, true and accurate at the time of publication. Information may be subject to change without prior notice. Please check with event organisers in the days before the event to ensure the event is going ahead as planned. The information provided by IrishSportives.ie is designed to offer helpful advice and information on the subject of cycling and fitness and IrishSportives.ie accepts no liability for loss or damage arising as a result of information supplied in good faith