Ride Dingle 2020
Event Navigation
Event postponed until August 15th
The producers of the Ring of Beara Cycle Kenmare, in association with Dingle Cycling Club bring you Ride Dingle for its second year, featuring 120km and 55km cycle routes on the majestic Dingle Peninsula and Slea Head, supporting local charities in and around Dingle.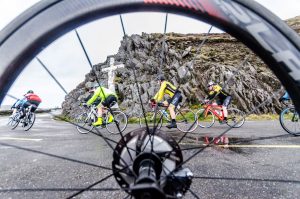 Dingle Cycling Club have run this event at a local level for many years. They are now partnering with Elite Event Management to grow the event and bring more people to Dingle for the annual cycle.
Choose from two routes, a 55km route around Slea Head or a longer route of 120km which will take in Slea Head and then continue on to the Conor Pass and Anascaul via Camp and back to Dingle
For the first ever Ride Dingle event in 2019, Cyclists came from as far afield as Australia, the Cayman Islands and Japan to ride across the Dingle Peninsula. More than 1400 cyclists took on Slea Head and the Conor Pass in what proved to be a challenging and fun day out.
Businesses along the route opened early to support the cyclists and cheer them along. There was music and craic at all of the food stops and the festival-like atmosphere was enjoyed by spectators as well as the cyclists themselves.
The 2019 event sold out, don't miss out for 2020!

DISCLAIMER The information provided by IrishSportives.ie is, to the best of our knowledge, true and accurate at the time of publication. Information may be subject to change without prior notice. Please check with event organisers in the days before the event to ensure the event is going ahead as planned. The information provided by IrishSportives is designed to offer helpful advice and information on the subject of cycling and fitness and IrishSportives.ie accepts no liability for loss or damage arising as a result of information supplied in good faith