RNLI Lap the Lake 2023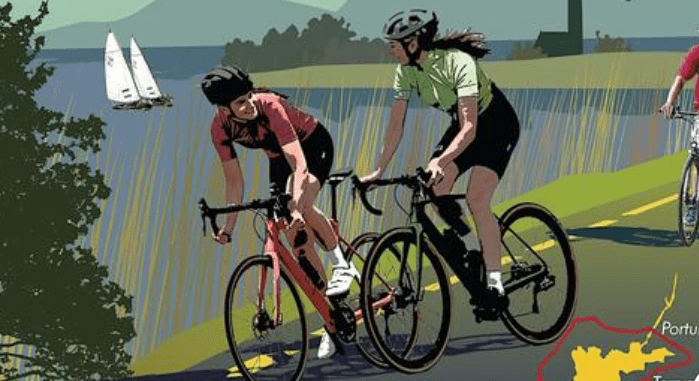 This year cyclists can choose between a 120km or a 65km route.
The longer route will take you on a full circuit of Lough Derg giving participants the chance to cycle through three counties, Tipperary, Clare and Galway.
The shorter route will take you just beyond Killaloe to a turnaround point at Twomilegate lakeside amenity park.
The scenery along the way is unparalleled and gives participants a chance to appreciate the beauty of the River Shannon.
There is one big climb up Portroe hill to challenge you but it is short and sweet and before you know it you will be flying down the other side.
After your break in Portuma the route becomes undulating, providing plenty of small hills to keep you working hard right up to the last kilometre.
On your return to the Lifeboat Station at Lough Derg Yacht Club in Dromineer you can relax and enjoy some food and some well-earned drinks.
The event will start and finish at Lough Derg Yacht Club, Dromineer, Co. Tipperary E45 NY60.
Route Maps
Registration
Registration will take place at Lough Derg Yacht Club on:
Friday 5th May 17.30 – 19.30
Saturday 6th May 06.30 – 8.00
Facilities on route
On both routes food, water and toilet facilities will be located as follows:
120km – Dromineer, Twomilegate, Mountshannon, Portumna, Terryglass
65km – Dromineer, Twomilegate lakeside amenity park (turnaround point)
Ticket prices
Tickets are €65 for the 120km route and €50 for the 65km route and will include a goody bag.
Pease note; No refunds will be given unless the event is cancelled due to adverse weather conditions.
Finish
Thanks to Lough Derg Yacht Club we will have a full bar open and showering facilities on your return to Dromineer. There will also be a variety of food on offer to purchase on site.

________________________________________________________________________________________________________
DISCLAIMER The information provided by IrishSportives.ie is, to the best of our knowledge, true and accurate at the time of publication. Information may be subject to change without prior notice. Please check with event organisers in the days before the event to ensure the event is going ahead as planned. The information provided by IrishSportives is designed to offer helpful advice and information on the subject of cycling and fitness and IrishSportives.ie accepts no liability for loss or damage arising as a result of information supplied in good faith.