Sean Kelly Three Counties Cycle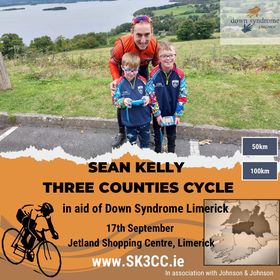 The Sean Kelly Three Counties Cycle returns on September 17th. Starting in Limerick and crossing Clare and Tipperary.
There are 50km and 100km routes to choose from.
Cycling legend, Sean Kelly, will once again lead out the groups.
The event is in aid of Down Syndrome Limerick

__________________________________________________________________________________________
DISCLAIMER The information provided by IrishSportives.ie is, to the best of our knowledge, true and accurate at the time of publication. Information may be subject to change without prior notice. Please check with event organisers in the days before the event to ensure the event is going ahead as planned. The information provided by IrishSportives is designed to offer helpful advice and information on the subject of cycling and fitness and IrishSportives.ie accepts no liability for loss or damage arising as a result of information supplied in good faith.Prices shown may not include additional costs, such as booking fees and Cycling Ireland one day licence.