Tip # 2: Meals On Wheels  by Catriona Courtney M.Sc B.Sc.Hons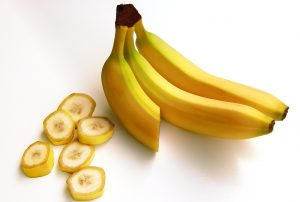 Now is a great time to figure out what food/product you plan to use or is supplied on the sportive events and begin planning what, when and how to consume. Many events supply huge spreads on event day. Word of caution: if you haven't been consuming a two-course meal during a training cycle then it's not a good idea to do that during an event!
A few tips on selecting and planning foods to bring on event day:
– Decide on flavour preferences – sweet v salty – and which food will appeal to you cycling at a specific time of day.
– Every 30 minute intervals can be a good starting point for taking in a food, gel and drink, work on event type training to practice your own individual plan
– Practise taking in nutrition as soon as into ride as is comfortable for you
– Ensure fibre is low for better digestion.
– During longer slower events, you can have more of a carbohydrate, fat, and a little protein combination but still aim for easily digested solid food sources
– Think of the terrain: you don't want to have a big meal-stop right before a long hill climb.
– Think of convenience: can you unwrap it easily and how is your bike handling technique
– Consider if solid or liquid will supply your needs. In general aiming for 30-60g carbohydrate per hour may be required, and you'll need slow-releasing or fast-releasing carbs at different times (you might need an emergency hit of a fast releasing carbohydrates like glucose sweets/gummy bears). Don't go too high on the carbohydrate from solid food with maximum of 30-45g Carbs per hour in solid food
– Consider the consistency of food, and whether it needs to be chewed or not and how capable are you of chewing and breathing heavily simultaneously!
– Have a favourite food with you that will break the flavour fatigue and give you a mental boost as well an idea of a simple lunch eg potato or sweet potato with a dip or hummus might be a nice change from the sweet stuff
– Building up tolerance is important for certain foods and can take up to 6 weeks of trailing new foods and adjusting to what best suits your own unique needs.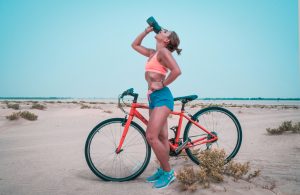 Here's few ideas for on bike foods for a longer event if you are not relying on gels or sports products:
 Banana – 29 g carbohydrates
 Power Bar – 24-26 g carbohydrates
 Kinetica energy bar – 36g carbohydrates
 Fruit food pouches – about 20 g carbohydrates
 Cooked potato (or mini potatoes) with salt – 20 + g carbohydrates
 Nut butter + honey (or jam) on bread/wrap – 30 + g carbohydrates
 Cheese quesadillas – 60 g of carbohydrates
 Cooked brown rice – 1 cup has 45 g of carbohydrates (Look up a recipe for rice balls or just ea it straight)
 Pitted Medjool dates (4) – 72 g of carbohydrates
 Glass of juice (such as orange juice) – 30 + g of carbohydrates
 Sticky rice bites made from rice and cream cheese – about 17 g of carbohydrates
 Mini waffles – 30g carbohydrate
 Mini Panini – about 20g-30g carbohydrate
---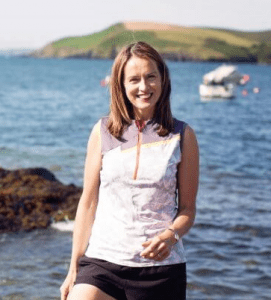 Catriona Courtney is a Registered Sports and Exercise Nutritionist(SENr Graduate Member) and lives near Kinsale in Cork (but still very proud of her Kerry upbringing😉).  Catriona specializes in nutrition for endurance sports like cycling, running, triathlon and ultra endurance.  For information on her services, contact her through her website www.elev8nutrition.ie or follow her on Facebook @elev8nutrition.ie  and Instagram @elev8nutritionirl