After years of talking about it and more than one false start, myself and a couple of cycling buddies finally got our act together and ticked one more thing off our bucket list: a cycling holiday in sunnier climes.
It was to Italy we headed, or more specifically to Riccione, on the Adriatic Coast. We chose to travel with tour operator GTI. Attracted by the good value and the fact that they offer an all-in package, including all transfers. And when I say all-in I mean full board, with a snack to bring on the bike, lunch on return and wine included with dinner in the evenings. The only thing not included is bike hire and the all important travel insurance.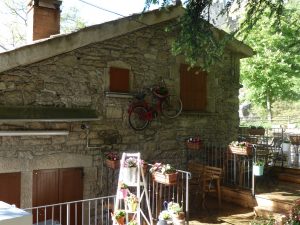 Dory Hotel was our base.  Last year the hotel celebrated twenty years as a cycling hotel and their experience shows. Run by keen cyclists, and with staff that are prepared to go above and beyond, it has a well-deserved reputation for excellence and the owner Stafano is always on hand for a chat.
Bike hire, bike storage and laundry facilities all available onsite and also a wellness room with sauna, Jacuzzi and massage. There's also a small swimming pool. Like I say, geared for cyclists.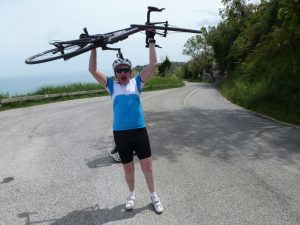 From Hotel Dory there are a number of cycling tours almost every day, each one led by an experienced guide. Groups consist of about 15 people, pedalling through the highways and byways of the Emilia Romagna region, and area famed for its rolling hills, spectacular scenery and ancient hilltop villages. The traditional coffee stop is an important part of many club spins, even more so in Italy, the home of great coffee. A genuine sense of camaraderie develops as people get to know each other on the bike and around the table over the course of the first couple of days.
A highlight was the Medieval Walled City of Urbino, with its university founded in 1506. It's a UNESCO world heritage  site and though it takes a bit of effort getting there by bike, it was worth every bead of sweat expended. It was not possible to explore the place in much depth on our cycling tour, but it's certainly made its way onto my list places to revisit. As did San Marino and San Giovanni in Marignano and…well you get the drift, the list grew longer every day!
There's plenty of advice and it's clear from early on that the group leaders are not only experienced cyclists but also well informed tour guides.
The routes are well chosen to match the various abilities while taking in a number of tourist attractions and though the climbs on our group rides were testing, there was nothing too severe.  Even if the group does fragment on a climb, the faster climbers wait at the top until everyone is back together, and there's plenty of encouragement if the going does get a bit tough.
The idea of such a trip can seem daunting: Will I be able to keep up? Will my creaky knees be able for the climbs? No need to worry. All the trips are organised according to ability. In our hotel there were 5 group rides, categorised accordingly.  The easiest group is suitable for beginners or the less fit, with shorter distances, slower pace and even electric bike hire available as an option. I say beginner, but it's probably not suited to the total novice and I'd say you would need to be able to comfortably complete a 30-40 kilometre ride before you go.
Our group moved at an average pace of around 20 KM per hour with a few climbs included. If you're unsure what route to choose, the guides are on hand to help you 'make the calculation,' as Sean Kelly might say. Also, it's possible to change between groups from day to day, if you fancy an easier spin or a tougher challenge.
The organisers are well aware that you are on your holidays. The cycle tours take in a wine tasting lunch one day and a fabulous BBQ lunch, held on the grounds of an old country house, another day. A little restraint is needed as the wine flows, it's easy to forget that there is still a little way to go on the bikes afterwards! Non-cycling partners are brought by bus from the hotel so they don't miss out on the craic,  and indeed partners or accompanying friends are well catered for with a number of activities laid on through the week, many at no extra cost.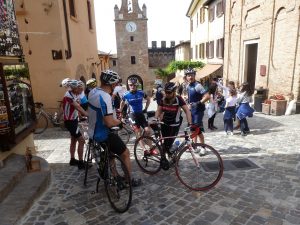 Riccione is a beach resort with the facilities available that you would expect, though early in the season not every place is open. We travelled in early May, and although the weather was slightly mixed, it was mostly fine with temperatures in the  mid-twenties. Good cycling weather, but apparently the sea was still a bit cold, not that I would know as yours truly decided to wimp out when it came time for a dip.
It's the ideal holiday for a group of cycling club members or a group of friends. As mentioned, non-cycling partners are well catered for. GTI run two trips per year but they will also organise tailor made cycling tours for groups of 15 or more.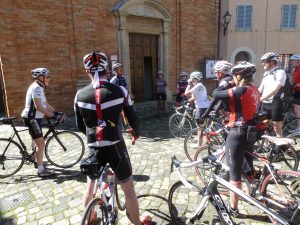 Before you go it's important to make sure you have cycling specific travel insurance, if you already have a multi trip policy, discuss with your provider to see if you need extra cover.
One of the few drawbacks are the roads. For reasons of safety the busiest roads are avoided which means smaller roads are used, but they are not well maintained in places. The roads surfaces can be very uneven with poor asphalt covering,  it's not a major problem, it just means you have to keep your wits about you.
So, the million dollar question. Will we go back? A big fat yes is the answer to that, without a doubt.
The savings account in the credit union has already been opened!
#although GTI placed an ad on this page, this is an honest review of the holiday