Carbery West Cork Challenge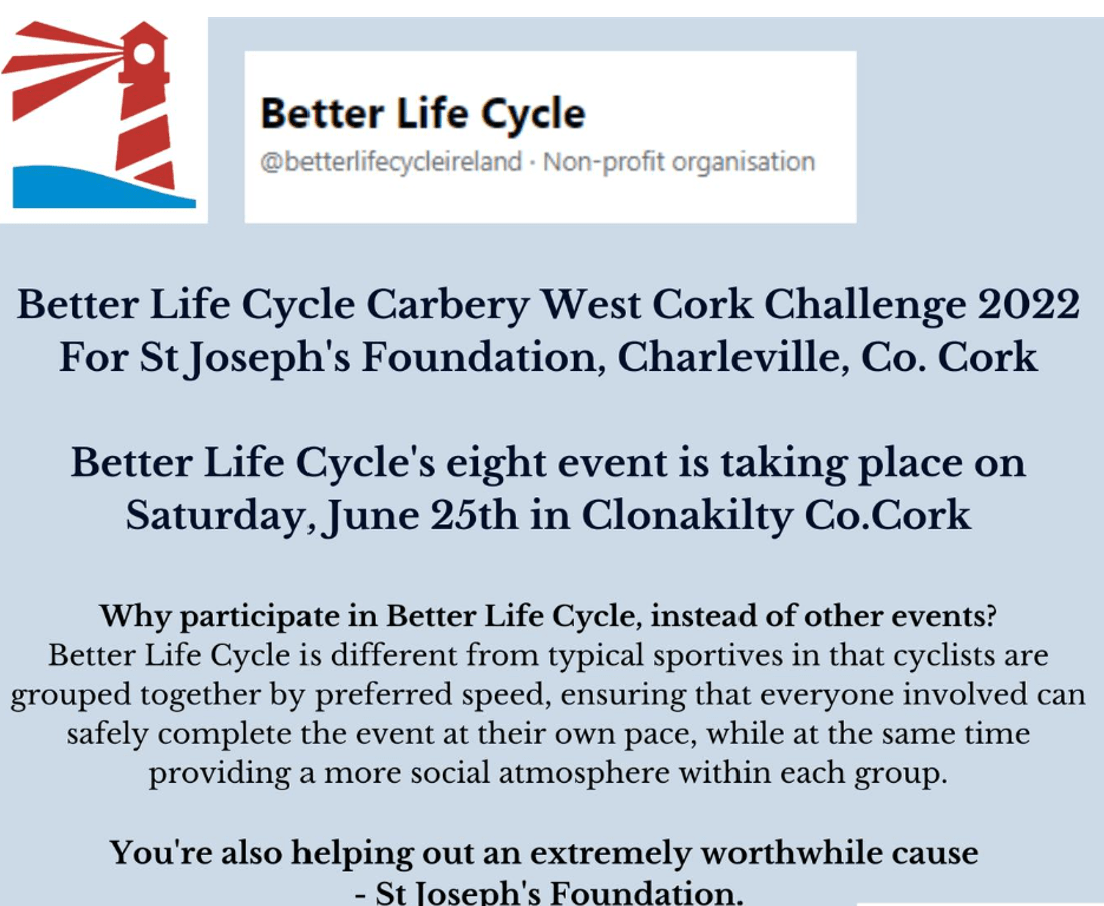 Better Life Cycle Carbery West Cork Challenge 2022 for an extremely worthwhile cause: St Joseph's Foundation, Charleville, Co. Cork
Better Life Cycle is different from typical sportives in that cyclists are grouped together by preferred speed, ensuring that everyone involved can safely complete the event at their own pace, while at the same time providing a more social atmosphere within each group.
You're also helping out e – St Joseph's Foundation in Charleville, Co Cork.
Two routes will be on offer as usual – 123km and 65km  Both routes start and finish at the Clonakilty Park Hotel in Clonakilty.
The 123 km route heads north out of Clonakilty, through Dunmanway, Bandon, Kinsale, Timoleague and return to Clonakilty.
The 65 km route heads north out of Clonakilty, through Enniskeane, Bandon, Kilbrittan, Timoleague and return to Clonakilty.
You can view the routes in detail at the following links:
What's involved in signing up
There is no fee to sign up for the event, though participants must pledge to raising €100 in sponsorship, 100% of which goes directly to improving the services St Joseph's Foundation offers to its users.
To date, St Joseph's has purchased six fully wheelchair-accessible mini-buses and has upgraded its kitchen and other rooms with funds provided by Better Life Cycle. Without the invaluable support from the event's participants none of it would be possible, and we want to keep the wheels moving for as long as we can!
You have 2 payment options: Pay online or alternatively a sponsorship card will be issued to participants shortly after registering.

______________________________________________________________________________________________________
DISCLAIMER The information provided by IrishSportives.ie is, to the best of our knowledge, true and accurate at the time of publication. Information may be subject to change without prior notice. Please check with event organisers in the days before the event to ensure the event is going ahead as planned. The information provided by IrishSportives is designed to offer helpful advice and information on the subject of cycling and fitness and IrishSportives.ie accepts no liability for loss or damage arising as a result of information supplied in good faith