Croí Corrib Cycle 2021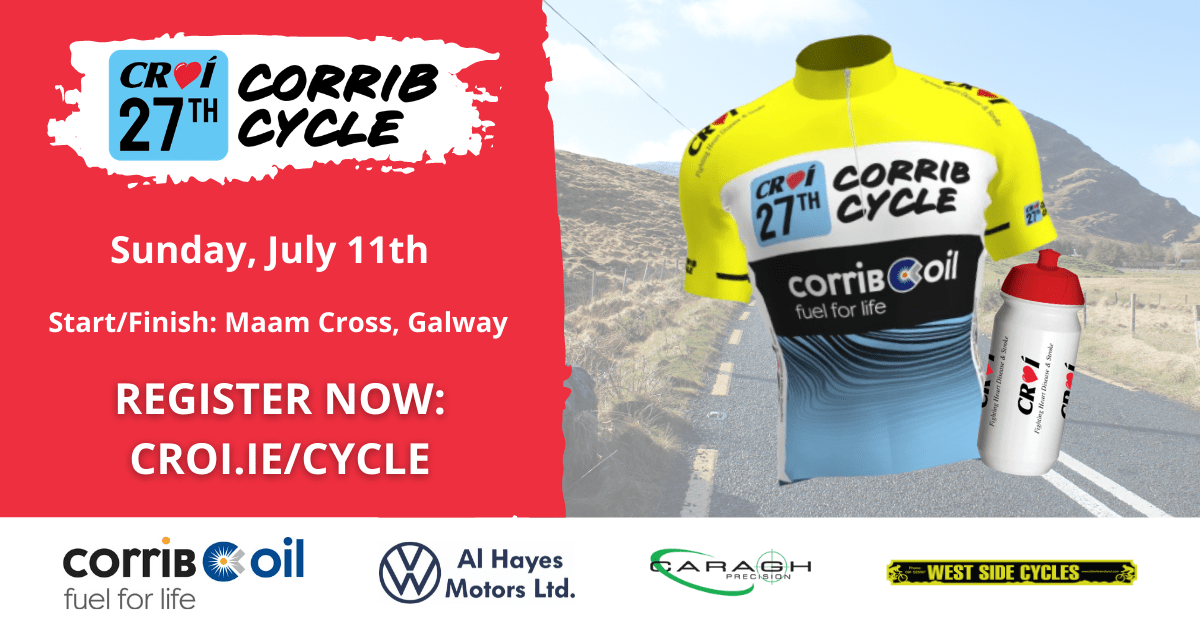 27th Annual Croí Corrib Cycle will take place on 11 July, from Peacocke's in Maam Cross and will include 3 distance options 40km; 80km and 110km and raised much needed funds in the fight against heart disease and stroke.
The Croí Corrib Cycle is back for 2021 with two exciting NEW ROUTES! This is our first physical fundraising event of the year. We have two great routes to choose from so sign-up today!
Date: Sunday, July 11th, 2021
Location: Start and finish at Peacockes Hotel, Maam Cross, Connemara
Route options: 40km / 80km / 110km
Entry: €150 (€50 Registration fee + fundraise, or donate, an additional €100 before June 28th to secure your place)
Includes: Cycle jersey, water bottle, face mask, food stops and refreshments, route support and a burger at the end of the cycle!
*Limited Places* We are releasing a limited number of places for this year's remapped event, with staggered start times to allow for social distancing. Don't delay, register now!
We will be strictly adhering to COVID-19 guidelines and government regulations, but we are confident that we will be able to safely gather in small groups and take to the road together!
DISCLAIMER The information provided by IrishSportives.ie is, to the best of our knowledge, true and accurate at the time of publication. Information may be subject to change without prior notice. Please check with event organisers in the days before the event to ensure the event is going ahead as planned. The information provided by IrishSportives is designed to offer helpful advice and information on the subject of cycling and fitness and IrishSportives.ie accepts no liability for loss or damage arising as a result of information supplied in good faith