Sean Kelly 3 Counties Cycle
September 18, 2022
€40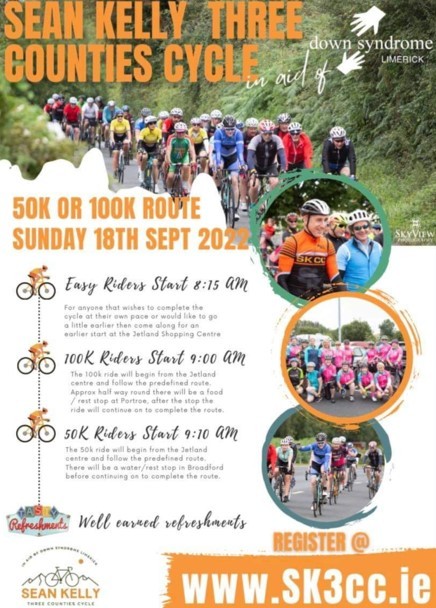 The Sean Kelly Three Counties Cycle returns again on September 18th with 50 and 100k routes
Money raised from the event goes to Down Syndrome Limerick to help them to continue providing vital services for children and adults with Down Syndrome.
The main cycle starts at 9am from the Jetland Shopping Centre in Limerick.
This year the organisers are including an 'Easy Riders' start for cyclists who prefer to do the 100km with a smaller crowd or go at their own pace.
The Easy Riders start is at 8:15am and is aimed at making the event more inclusive to all cycling abilities.
Refreshments are provided before and after the event as well as at the half way mark for both routes.
The legendary Sean Kelly will lead out the cyclists and is delighted to be supporting this event and the worthy work of Down Syndrome Limerick.
Entry fee is €40. Go to 
www.SK3CC.ie
 for further details or to register.
Looking forward to welcoming everyone to the event.
_______________
DISCLAIMER The information provided by IrishSportives.ie is, to the best of our knowledge, true and accurate at the time of publication. Information may be subject to change without prior notice. Please check with event organisers in the days before the event to ensure the event is going ahead as planned. The information provided by IrishSportives is designed to offer helpful advice and information on the subject of cycling and fitness and IrishSportives.ie accepts no liability for loss or damage arising as a result of information supplied in good faith