The Three Peaks Challenge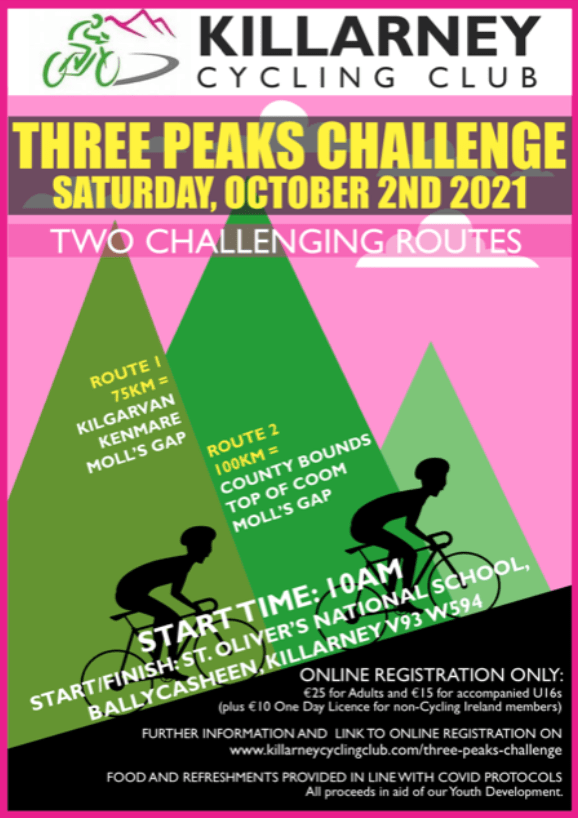 Our annual Three Peaks Challenge sportive covers some of the most rugged and beautiful landscape in Ireland, with a choice of 100km and 75km routes.
Please join us on for spectacular routes with refuelling stops and food for all cyclists on completion, in line with Covid protocols.
The 100k route has 1,160m for elevation and takes in some of the most rugged landscape of Muskerry, Killarney National Park, and the Lakes of Killarney.
The 75k route is less demanding with 835m of elevation and one major climb of Moll's Gap, which is not steep (9k long with a gentle and consistent gradient of 3%). The route passes through Kilgarvan and Kenmare before the climb of Moll's Gap, and then the very scenic descent past Ladies View and The Lakes of Killarney.
Please note that this will be an online ticket event only for 2021; no registration will be possible on the day.
Registration ends at midnight on Thursday, September 30th.

DISCLAIMER The information provided by IrishSportives.ie is, to the best of our knowledge, true and accurate at the time of publication. Information may be subject to change without prior notice. Please check with event organisers in the days before the event to ensure the event is going ahead as planned. The information provided by IrishSportives is designed to offer helpful advice and information on the subject of cycling and fitness and IrishSportives.ie accepts no liability for loss or damage arising as a result of information supplied in good faith