Losing your motivation mid-way through the cycling season is apparently quite a common thing.
Despite starting out the year with the best intentions, around this time of year it can all go pear shaped. It's the cycling equivalent of joining the gym in January full of New Year's resolutions and being a couch potato again come March.
Has this happened to you?
Here are some tips to get you back on the right track.
Find a new cycling route. Fed up of the same bun in the same coffee shop, week after week? We all have a go-to route for a midweek spin or on those weekends when we are not doing events. Explore new routes, throw the bike in the car and drive 20 or 30 kilometres down the road, a change of scenery can work wonders.
Join a club. Don't underestimate the social aspects of cycling. Joining a club is a great way to meet like-minded people and make new friends and a friendly chat while on a spin is a great way to pass the miles.
Try a different type of cycling. If you're a roadie, try gravel tracks, canal towpaths or greenways for something different. A change is as good as a rest.
Set yourself a target. Enter a challenging event that will require some training and tell everyone about it. Maybe even raise money for charity at the same time.
Buy a new bike. This is obviously the most expensive option on the list, especially given post Covid price increases, but new bike syndrome is a thing! And any excuse for an N+1*. This of course is not a practical solution if loss of cycling mojo is a regular occurrence!
Take a break. Sometimes, giving in to lack of motivation CAN actually help short term. Maybe you DO need a break. But plan it. Set a date for your comeback and stick to it. After a few weekends of moping around the house driving your partner and kids mad, everyone will be relieved when you get back on the bike!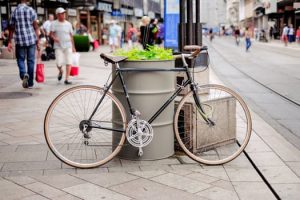 Follow your friends on Strava. If you do take some time out, make sure you follow your friends on Strava or similar. There's no better motivation than seeing your 2 stone heavier, 5 years older mate beating your record for the sprint to the coffee shop, without you there to challenge!
Have Fun Then again, slightly in contraction to the previous point, maybe you just need go for a ride without your bike computer. Forget about speed, cadence, heart rate and so on. Take in the scenery, have an ice cream! Just enjoy the moment.
Reward Yourself. When you do a good workout or complete that event, reward yourself. Have that beer or glass of wine, eat that slice of chocolate cake. You've earned it.
*N+1 is the answer t the question "How many bikes do I actually need?" where N = the number of bikes you already own.