By John Boyle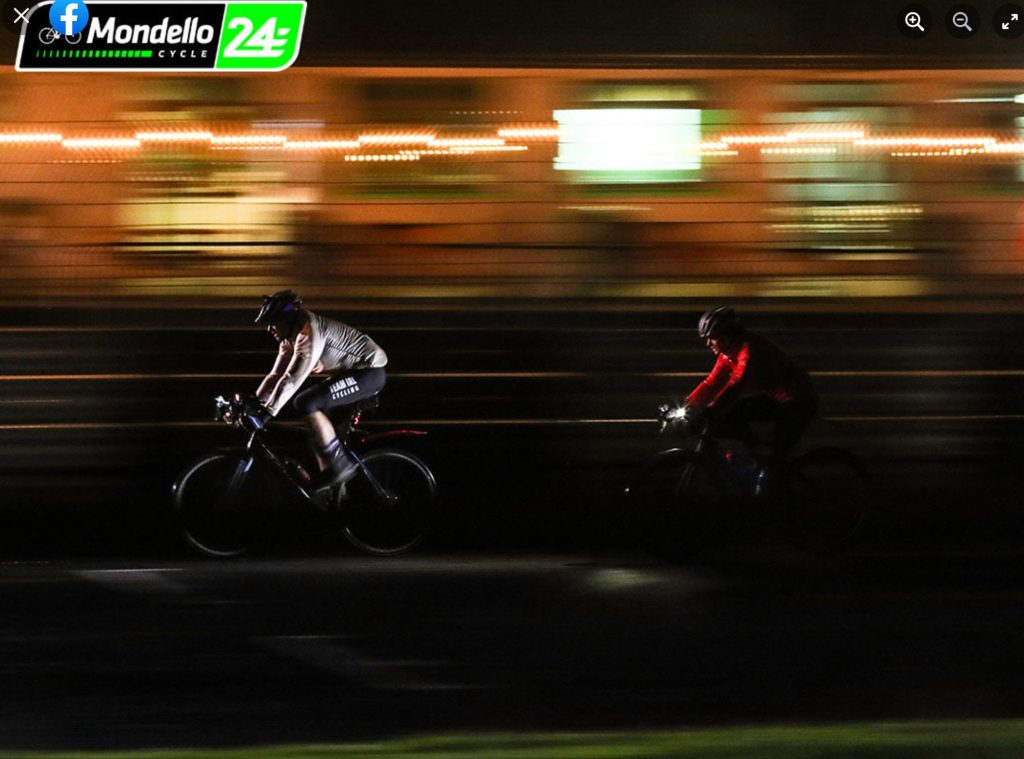 Ride for 24 hour? In a mostly dark  October? Around an unlit race track built for car racing? Are you nuts?!!
That was my reaction when I was asked to join an eight_man team for the inaugural Mondello 24 Endurance Race. But as Hugh Durnin, our mentor persisted, I said I would help with the logistics and support, if he could find a team crazy enough to ride it.
But then how do you prepare to support these guys?
Make a list! Our facilities at the track were a bare pit garage with water and power. We were lucky, most of the teams would have to make do with an outside space with a power point.
When we rolled in on the Friday night with a jeepload of 'stuff', we soon had tables, chairs, of various comfort levels, tea and coffee facilities, heaters microwaves and a tumble dryer. Mondello had opened the café and food would be available all over the 24hours and beyond. Riders were able to practice on the track to familiarise themselves with night riding. We were given access to the team suites overhead of the pits. Here we could stretch out in the night if a quiet place was needed to recoup. A wonderful facility for this type of, never been tried, event.
We were all set up now for our teams, who arrived with all their own supplies of personal items. All full of trepidation and enthusiasm complete with changes, warm gear, turbo trainers and music. Had the place looking like a spin class before long.
Our pit garage facilitated four eight-man teams and one solo rider. When we all shuffled into our allotted space and ready to go, changeovers were practiced and honed. This was going to be serious stuff.
Midday arrived and the race got off to a blistering LeMan start and we were off and running, or cycling in this case.
Some were in normal riding mode others were bouncing and some apprehensive. But to a man and woman they were all 'driven'.
Our backup team were supportive in facilitating the task ahead.
Rider changeovers would be staggered. Some on the hour, some on the half hour, some on 45 mins.
Tim, our solo rider, supported by his two daughters, was plying his lonely furrow, coming in when and where he needed to. To eat, or rest, or on one occasion for a 15 min catnap. Truly amazing man!
Riders retired to an easy chair or bed when their stint was over and when they hadn't to be 'on stage' for a number of hours.
The support crew were on duty for the whole duration. Timing, feeding, supporting, ego boosting and encouraging riders over a long dark and as it turned out, cold and wet night.
No wild imagination could prepare you for the sight of clusters of unbelievably bright luminous bike lights coming straight towards you silently at speed and then the sound of 90 riders speeding around the track silent save for that beautiful whirrrr of bike wheels as they pass.
As things quietened in the darkness of the night this was a somewhat lonely place to be. Change-overs were the only periods of activity in the pits. People were resting. Those few who were still around and it all became a duty to be done. Bereft of excitement or animation. That's what the dead of night does to you. Deadens your enthusiasm and sharpens your will to just sleep.
Sunlight comes quickly when sunrise comes and it's actually true that its darkest before the dawn. And it's like one of those time lapse films when life arouses and sounds increase and bustle begins and the shouts and cheer from supporters as they arrive and it all starts again.
The speed, the urgency the 'need for speed'. Questions like. What happened in the night? Where are we now. For our team, we had characterised the event as a Mizen to Malin challenge, mapped out on the wall with riders names. By now we were heading into Sligo on our teams 650km target.
Families arrived with fresh scones and fresh sandwiches for 'Sunday dinner'. Our club teams, out on their Sunday spins, redirected their coffee stops to Mondello.
But nothing could prepare you for the noonday finish. Last man out on the track was a special thing. The final changeover was almost ritualistic. A suitable finale for what had been a memorable occasion and event. Bonding, over 24hours and more all who took part and competed
Our last man Hugh D put everything into his last few laps urged on by family and friends and mates who as did all the riders and were cheered home as victors who gave their all over an amazing 24 hour period.
Nothing left now but to dismount, dismantle and and hug each other COVID STYLE and vow and wow for next year Mondello 24.
Truly unique experience even if you didn't ride it .
John Boyle