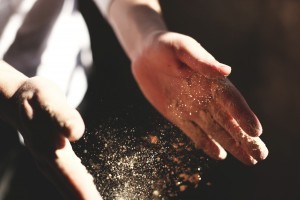 Mix the following dry ingredients together:
175g porridge oats
75g mixed seeds (sesame, pumpkin and sunflower etc)
50g sultanas or cranberries
100g chopped mixed nuts
Other Ingredients:
125g dried apricots
150ml orange juice or apple juice
50g butter
75g runny honey
150g brown sugar
100g 70% Cocoa Dark Chocolate.
You Need: A non stick baking tray, lined with parchment paper or preferably, a silicone baking tray.
Chop the apricots into small pieces, put them into a saucepan with the orange/apple juice and bring to boil, stirring all the time. Simmer for about 20 minutes uncovered or until the apricots are soft. Keep an eye on it and stir it often, as the mixture sticks easily.
Remove from heat and blend with a hand blender. Add the butter, honey and sugar and simmer it all together over a low heat for about 5 mins, or until sugar has dissolved. Mix it well with a wooden spoon. (you can flavour with a pinch of cinnamon or mixed spice etc.  if you wish)
Preheat the oven 180 degrees. Spoon the mix into a greased and lined (with baking parchment) baking tray or a silicone baking tray. Flatten it all out with a fork and the place in the oven for about fifteen minutes.  As ovens vary, be careful it doesn't burn.
Break the chocolate into pieces & melt it in a bowl over boiling water or slowly on a low setting in the microwave. Don't over heat it or heat it too quickly, the chocolate will go hard and unusable. Pour the melted chocolate over the top of the cooked mixture and allow the whole lot to cool completely before cutting into bite size squares or bigger bars, if you prefer. Enjoy!
Bar#220g/4oz Porridge Oats
75g/2½oz chopped mixed nuts
25g/1oz mixed pumpkin/sunflower seeds or similar
130g/4½oz dates, well chopped
50g/1¾oz chocolate chips (optional) Dark Chocolate if you can get it.
40g/1½oz raisins, sultanas or cranberries (or a mix)
100g/4oz peanut butter (crunchy is best)
90g/3¼oz honey
Makes around 15 bars.
Preheat the oven to 180C/160C Fan/Gas 4.
Use a silicone baking tray or a 20cm/8in square baking tin lined with parchment paper.
Spread the oats out onto a baking tray and bake them for about 10 minutes until they crisp up a bit. Set aside to cool.
Take the toasted oats, chopped nuts, seeds, chopped dates, chocolate chips if using, and berries. Mix them up in a large bowl.
Put the peanut butter and honey in a small saucepan and melt over a low heat and stir till it's smooth and both ingredients are well combined. While everything is still warm, thoroughly mix the peanut butter and honey into the oat/nuts/seed mixture. Get your hands in to make sure everything is well mixed.
Press firmly into the lined tin/silicone tray and spread evenly, then place the tin into the freezer for 15/20 minutes to let the mixture firm up a bit, then cut it into bars. Wrap bars in cling film, and you're good to go.