One Saturday afternoon in September 1953, 52 riders lined up for the start of the first Rás. As they took to the roads, the concept of a national Irish bike race became a reality. The race has developed into a much sought after event by professional and amateur teams from many parts of the world. This first edition was a two-day event but quickly developed into a week-long event. It has run every year since, albeit with occasional name changes as different sponsors came on board.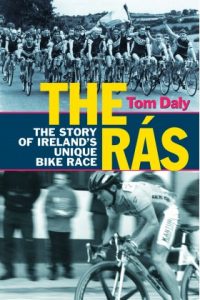 It is a race characterised by the toughness of the course and fierceness of the competition. This book captures the spirit and essence of the Rás, its historical significance and place in Irish sporting history and is interspersed with personal stories of sacrifice, hardship, and epic achievement. Unforgettable are the training methods and diet of Mick Murphy, Kerry's 'Iron Man', in the late 1950s.
Early stars, such as Gene Mangan and Shay O'Hanlon, became sporting champions but victims of the wider political situation.
In the present day pro peleton  Mark Cavendish and Tony Martin are but two of the former Rás compeditors who have gone on to greater things.
The Rás: The Story of Ireland's Unique Bike Race by Tom Daly captures this historic race in all its glory.
"The stories and the characters are what make this book such an unexpected treat."
The Irish Times
"An outstanding addition to the sport's literature."
Sunday Independent
"Truly Unique. A sprawling story that speaks as much about Ireland as bike racing."
Books Ireland
"The Rás; Ireland's Unique Bike Race is a must have for Irish cycling fans of all ages."
Irish Cycling News
"The Rás is worthy of a place on any bookshelf in the land. Once started, it'll be hard to leave it out of your hands and for God's sake don't pass it on. You'll never see it again."
The Sunday Tribune