Legend of the Rás Tailtean, Mike "Iron man" Murphy ate raw steak and drank cows blood, sometimes during a race.  He slept in haybarns and worked out with home made weights made from rocks.
A fire eater, wrestler, bricklayer a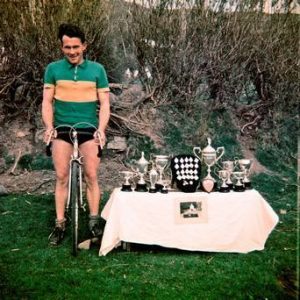 nd all round circus performer, he won the Rás Tailtean – in those days a major sporting event – at his first attempt in 1958, a feat described by cycling historian Tom Daly as  one of the outstanding achievements in Irish sporting history.
Legend has it that during that famous edition of the Rás, his freewheel broke.
Unable to cycle futher, Mike threw his bike over his shoulder and ran after the pack.
Seeing a farmer out to watch the race go by, he borrowed the mans ordinary bike (think High Nelly) and chased after the pack. Eventually he got his own spare bike from the team car and continued the pursuit. Incredibly, he lost no time on the stage.
On another occasion,during the same Rás, he was badly concussed following a nasty crash. Getting back on his bike, injured and confused, he headed off again. He met the pack coming toward him who told him he was going in the wrong direction, but in his confused state he didn't believe them.
It was only when he met the second group on the road that the penny dropped. He turned around and the pursuit began. Working with this group, he chased down the main pack  and caught them just before the finishing line.
These are just a few of stories from a incredible life,  see the links below to find out more about this remarkable man. The Mike Murphy Memorial Cycle aims to raise funds on order to erect a memorial to Iron Mike, click here for more information.
Read a more in depth article here
There's a great RTE radio documentary here