On May 6th 2021 Enniscorthy earned the distinction of becoming the first municipality outside of mainland Europe to receive, Tour de France Cycle City label.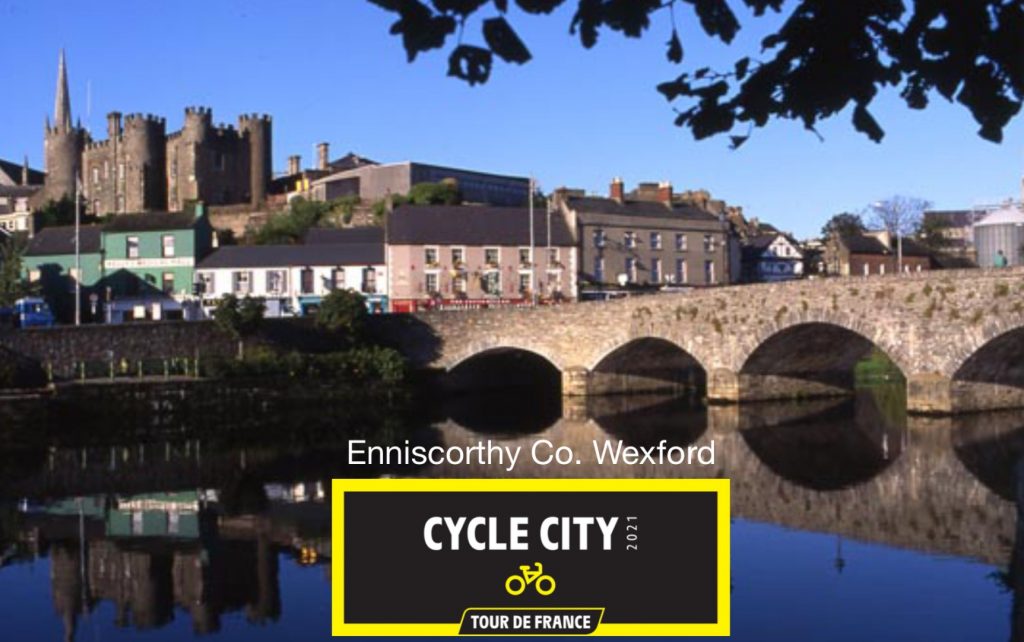 Enniscorthy was a host town for a 1998 stage of the Tour de France and as such became eligible to apply for this prestigious label.
Other criteria included buy-in from the local municipality and to this end, the Cycle City label is intended to double as a road map for towns and cities wishing to implement public policies to promote cycling as a leisure activity, as a competitive sport or as an everyday means of transport.
The submission to have Enniscorthy assigned an official Tour de France Cycle City label was a collaboration between Enniscorthy Municipal District Council, Wexford Bicycle User Group (WexBUG), Re-Imagining Enniscorthy and other stakeholders, brought together by Barbara-Anne Murphy – Cathaoirleach of Enniscorthy Municipal District.
There was clear delight on Thursday that this collaborative submission met the assessment criteria and that Enniscorthy was granted, an official cycle city label!
Ger Mackey, Enniscorthy Municipal District Manager, played a key role in this application and we look forward to working with him to put the necessary cycling infrastructure in place throughout Enniscorthy where real tangible benefits of attaining this label can be achieved.

Here is what the judging panel said:
Enniscorthy, Ireland – 1 bike – A city suited for pleasant bike rides on recreational cycling routes, Enniscorthy recently unveiled a local policy that would help it become a more bike-friendly city.
The timing is great: the rerouting of the highway and the Flood Relief Scheme will create opportunities to increase biking accessibility in the city.
Enniscorthy also promotes sports related to cycling through local organizations and racing events.

Tour de France cycle city judging panel review of Enniscorthy.
Here's how some people involved in the Tour de France cycle city submission reacted:
'As Cathaoirleach of Enniscorthy Municipal District I am thrilled that Enniscorthy has been designated a Tour de France Cycle City.
Phil Skelton WexBUG brought the opportunity to my attention earlier this year and the application that was submitted was the result of collaboration between Enniscorthy Municipal District Council, Wexford BUG and Re-Imagining Enniscorthy.
This is a wonderful opportunity to put Enniscorthy at the heart of cycling in Ireland, both as a mode of transport and a sport enjoyed by so many enthusiasts.

Enniscorthy's commitment to all forms of cycling is enhanced by the awarding of the Cycle City designation by the Tour de France.

We look forward to working with all stakeholders to get the best out of this unique award and to create and facilitate more corridors of active travel. We especially look forward to welcoming cycling visitors this summer and beyond to Enniscorthy.

Tour de France is a massive international brand, and to come under this umbrella has much potential in terms of accessing both state and EU funding in the future.'

Barbara-Anne Murphy – Cathaoirleach of Enniscorthy Municipal District.
I've always felt that Enniscorthy has never fully tapped in to the success of the 1998 Tour de France and I was thrilled when I saw the potential opportunity to put that right through the Tour de France, Cycle City project.
As well as being Chair of Wexford Bicycle User Group (WexBUG), I am also a long time member of local club, Slaney Cycling Club and this label presents so many possibilities for improving the offering for everyday cyclists along with sports & leisure cyclists.

Improvements for locals will automatically feed into a better offering for tourists.

With the recent growth in the number of ferries using Rosslare now, this also presents great opportunities to entice European sports and leisure cyclists through this convenient gateway.

According to Fáilte Ireland, 450,000 visitors to our shores, participate in cycling while on holiday, which represents a threefold increase since 2009.

Cycle tourism is a massive business and having this cycle label, can put Enniscorthy front and centre of this and the rewards to the local hospitality sector can be reaped, not just for Enniscorthy itself but for surrounding towns and villages.
If we get this right, there will be cyclists from all over pouring over a map of cycle cities and we need to not only make Enniscorthy their destination of choice, but to give them the best possible experience when they get here and leave them wanting to return..
Let's not waste this exciting opportunity!

Phil Skelton – Chair Wexford Bicycle User Group (WexBUG)
"The awarding to Enniscorthy of the Tour de France Cycle City accreditation is perfectly timed as Wexford County Council has received funding to develop Transport Plans for Enniscorthy, including development of a Cycling Strategy for the town under the National Transport Authority's "Active Travel" programme.
This will encourage our local Enniscorthy community to use bicycles as an alternative to cars for travel to work and school, and to encourage more cycling by locals and visitors for leisure and exercise.

As part of the Tour de France accreditation, we plan to set up a cycling monitoring group, Active Cycling Enniscorthy (ACE) which will include a cross-section of local residents and active cyclists, supported by the Wexford County Council.

The intention of ACE will be to advise on the development and implementation of the Cycling Strategy for Enniscorthy, promote safe cycling, and encourage initiatives to increase cycling in our town."

Dervla Tierney – Re-Imagining Enniscorthy
"Visit Wexford, the tourism destination brand established to promote and champion tourism within Wexford County, is very pleased that Enniscorthy has been selected as a Tour de France Cycle City, the only town in Ireland so included.

The growth of cycling clearly aligns with the Enniscorthy Tourism Strategy that has been developed with Fáilte Ireland, and the County Wexford Tourism Strategy.

The Enniscorthy Tourism Strategy is focused on strengthening visitor experiences, particularly in the culturally curious segment, and in developing access to the heritage sites of Enniscorthy, including the castle and Vinegar Hill battlefield site, where additional cycling infrastructure is planned by Wexford County Council.Visit Wexford is promoting cycling and will include the Tour de France award in our social media campaigns, which are currently underway."

Colm Neville – Director of Visit Wexford
'Enniscorthy Chamber of Commerce and its members are excited at the inclusion of Enniscorthy as a Tour de France "Cycle City".
We in the Chamber are working with Wexford County Council to encourage the infrastructural developments that will further facilitate cycling in Enniscorthy.

Our members support better cycling access to the centre of the town as part of the traffic management plans that are currently being developed.'

Jimmy Gahan – Enniscorthy Chamber of Commerce.
'We in St Mary's CBS Secondary School are delighted that Enniscorthy has been accredited as a "Tour de France Cycle City".
St Mary's CBS has recently been awarded the School Ambassador badge recognising the involvement of our Transition Year students in the HEADSTRONG Programme "Cycle Against Suicide", which promotes mental health through cycling. We are very supportive of all efforts that encourage our students to use bicycles to travel to and from school.

It is understandable that many parents are concerned about their children's safety around cycling as busy roads surround our school and it would be wonderful if those roads could be upgraded to take account of cyclists.'

John Ryan, principal of CBS Enniscorthy.