Inaugural Ride Dingle cycle draws international participants despite disruption of Storm Hannah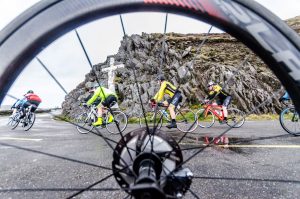 The first ever Ride Dingle took place yesterday on Sunday 28th April, one day later than planned, across the Dingle Peninsula. More than 1400 cyclists took on Slea Head and the Conor Pass in what proved to be a challenging and fun day out.
Event organisers were forced to delay the event by 24 hours as Storm Hannah arrived on the West Coast of Ireland on Friday. The decision wasn't taken lightly by the organisers but the health and safety of participants, staff and volunteers had to be prioritised. The local community, business and volunteers rallied around to ensure the event was able to proceed albeit somewhat later than planned.
Cyclists came from as far afield as Australia, the Cayman Islands and Japan to be part of the event.  Cycle enthusiasts chose from two routes, a 55km route around Slea Head and a longer route of 120km which then continues on to Conor Pass and Annascaul via Camp and back in to Dingle.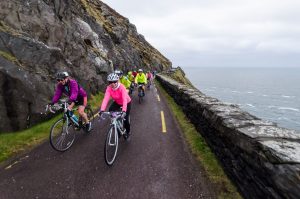 Dingle Cycling Club have run this event at a local level for many years but partnered with Elite Event Management to grow the event and bring more people to Dingle for this iconic and breathtakingly beautiful cycle.
The cycle organisers are proud to have partnered with the Camphill Community in Dingle who work with people with intellectual disabilities and other kinds of special needs. In addition, local schools and clubs benefitted from the event by hosting the food stops along the route in Ballyferriter, Dingle and Camp. The organisers made a donation to each of the organisations involved and want to thank them for their hard work at the food stops and stewarding, as well as the great welcome they put on for the cyclists.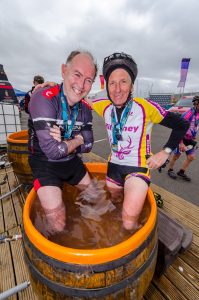 Oliver Kirwan, Event Organiser said, "We were delighted to put on a cycle in such a unique, spectacular location. We've been working with Dingle Cycling Club to bring this event to fruition and we are delighted to say that it has been a great success and will return again in 2020. The event has been really well supported locally so we would like to thank the business and volunteers for their time. We didn't want to cancel the event because of the weather so it was great to see so many people and local businesses getting behind the transfer to Sunday – a special thanks to them.
Camphill Community Dingle along with other local charities, schools and clubs that will benefit from the proceeds of the event and it's great to see something going back to the local community in addition to the business generated over the weekend. We hope everyone enjoyed the day as much as we did – see you all next year!"
President of Dingle Cycling Club Paudie Fitzgerald, was delighted to see so many cyclists enjoying a route he is very familiar with, "We've been running this cycle for many years and everyone who has ever done it agrees it is one of the best routes in Ireland. We know the potential for it and we wanted to share that with as many people as possible. It was fantastic to see so many groups and individuals out there today enjoy the whole route and indeed the festivities back in Dingle after. We'll be looking forward to next year."
Yasmin Kenny of Camphill Community Dingle said, "We are very pleased to have the support of Ride Dingle 2019. It has been a great day out and it was wonderful to see such a large number of cyclists taking to the Dingle Peninsula together. The donation from the event means that we can keep supporting people of all abilities to live, learn and fulfil meaningful roles within the Camphill Dingle Community. Thanks to all involved."
Businesses along the route opened early to support the cyclists and cheer them along. There was music and craic at all of the food stops and the festival-like atmosphere was enjoyed by spectators as well as the cyclists themselves.
Dingle was the scene of much celebration post-event. All participants received a customised medal, food, access to the famous Japanese hot tubs and there was plenty of entertainment on hand to keep the celebration going.