SportActive offers a full refund for Covid-19 travel disruption. So riders can book with confidence.
How do you fancy climbing four of the most famous climbs used in the Tour De France? Sign up for the 40th Anniversary Edition of the Marmotte Alps Sportive – taking place on the 27th June 2021  and featuring four of the Tour De France most legendary cols.
It is arguably Europe's toughest amateur sportive.
The route, through the French Alps runs  from Bourg d'Oisans to Alpe d'Huez. It is over 177km long and the amount of climbing involved presents a serious challenge to even the fittest amateur cyclist.
Despite the tough challenge involved, or maybe because of, it is also one of Europe's most popular Sportive events,  with upwards of 8000 riders taking on the challenge.

The climbs, Col du Glandon, Télégraphe, Galibier, and Alpe d'Huez are all ridden on one tough day in the saddle, with perhaps the most famous climb of them all being Alpe d'Huez. With twenty one leg sapping hairpin bends it features 5000m of tough climbing.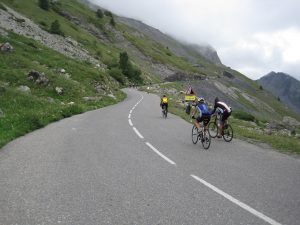 Col du Telegraph, featuring regularly in Le Tour since 1947, has earned it's place in cycling history as has another famous climb included in the route, Col du Galibier. Combined together on this Sportive they create a spectacular route, which has captured the imagination of many cyclists.
It is the 40th Anniversary Edition
The route has changed slightly. It has reverted to the original route replacing Glandon with col de la Croix de Fer. This is the original route of Marrmote Alps. So the four cols now are: Croix de Fer, Télégraphe, Galibier and Alpe d'Huez
As such the distance has increased to 177 kms from 174 kms. The climbing remains unchanged at 5000+ metres.
As it is the 40th Anniversary edition, the organisers have laid on Marmotte Ultra. This features: Croix de Fer,Télégraphe,GalibierAlpe d'Huez and an additional loop of Alpe d'Huez. Riders will take on the mighty col twice.Marmotte Ultra is 225 kms and 6300 altimetres!.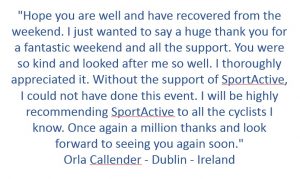 Riding it with SportActive includes
Registration to the Sportive Registration & race numbers.
Pre-event information meeting
Full support including 3 back-up cars carrying spare clothes, refreshments, spare parts, and drinking water
SportActive bike mechanic for assistance when assembling your bike
Secure bike storage
Transfers airport-hotel-airport for you and your bike.
4 nights' B&B in 3 star hotel in Alpe d'Huez, based on 2 people sharing room; Good comfortable large en-suite rooms
Pictures we take throughout the event
SportActive offers a full refund for Covid-19 travel disruption. So riders can book with confidence.
Testimonials
"Thanks for an unbelievable experience in the French alps. I had the time of my life. Please send on my best wishes and thanks to Martin and Stephen. Please send me details of up and coming camps and trips as I would definitely like to go again."
Brian Kelly – Ireland