Discover the Legend Sean Kelly's Training Advice to Maintain Your Condition
In a recent interview, the Legend Sean Kelly gave insightful advice on maintaining condition during lockdown. Using a program of running and off-road cycling, the Legend is keeping his own fitness levels high.
With this in mind, let's take a closer look at how Sean Kelly is keeping fit. You may feel you're managing to stay fit during these times, exercising where you can. Nonetheless, getting insights from one of the best cyclists ever to have lived may help you refine your fitness efforts further, and better use your time.
Sean Kelly's Fitness Program
To make the most of his outdoor time, Sean rides off-road on a mountain bike. As he lives in Ireland, he is limited to a 2 kms radius of his home. Sean advises using your outdoor time to get out and cycle. Do laps if you live in a country that imposes a radius based restriction.  If not make the most of the time you have riding a circular route.
To mix things up, Sean Kelly also runs. He finds it particularly useful if he is away with Eurosport commenting on the big races such as the Tour de France and Paris Nice. Since the Covid-19 crisis, he has started to mix up his cycling with running.
If you are considering running, Kelly advises not to push yourself too hard to avoid injury, especially if you are new to the sport. He recommends running for 20 minutes, then walking, running for 20 and so on. Build up gradually to an hour's run.
So in essence, cycle during the times you're allowed to and consider running to maintain fitness.
Sean is quick to point out that this is fine for maintaining basic fitness, which is all he needs, but you will need more if you want to ride to a higher level for longer distances and racing. For this, he recommends using turbo trainers for high-intensity training. You can make turbo training more interesting by using Zwift or a structured work out program.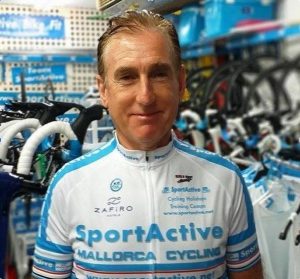 Recently, Zwift races were led by professional cyclists such as Dan Martin, Eddie Dunbar and Alberto Contador.
Structured Turbo Training Sessions
Although turbo trainers may not fill you with joy and you may lose interest when using it, with a well-structured turbo trainer program you can maintain fitness, build core strength and practice techniques such as climbing. As you'll be following a structured program you'll keep up your interest especially when you start feeling the benefits.
When The Legend Sean Kelly isn't commentating on the big races, you'll find him in Mallorca with SportActive Cycling. 
To help cyclists maintain/build bike fitness during the confinement, SportActive has started publishing weekly turbo training programs. 
There are two types: Martin's very serious power based program (you need a power meter) and Flora's softer program based on cadence and feeling of the gears.

See the programs clicking the links below.
Martin's programs for the competitive cyclist (with a power meter): 
Flora's softer programs (no power meter required): 
SportActive is publishing a new program every week, so check back with them by following them on social media, or keeping an eye on the SportActive blog.
About The Legend Sean Kelly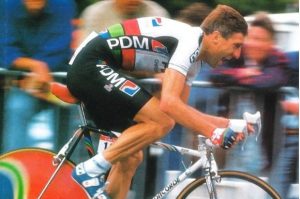 Sean Kelly is one of the best cyclists ever to have lived. He has won 198 pro races and is known as The King of the Classics mostly thanks to his '84 season where he won 33 professional victories.
He was at heart a sprinter but could keep up with the climbing specialists on the toughest cols in the world. Kelly is considered a master descender, achieving a recorded speed of 124 km/h. This served him well with a win at the twilight of his career in 1992 at the Milan San Remo. With just 3kms to go the favourite, Moreno Argentin broke away. He hit the summit of Poggio 8 seconds ahead of the peloton looking good in first place. 
Kelly, in fourth place, attacked while descending Poggio. With just 3 kms of the descent of the mountain left, he caught Argentin with 1 km to go to the finish. 
In a tense finish, Kelly seized the moment to clinch victory.
You can read the full Sean Kelly interview on Stickybottle.
Keep upbeat and as fit as you can during these times; we'll soon be riding in the sun once more.