You've completed all the usual events on home soil and you're looking for something a little bit different, a new challenge.
Mont Ventoux, in the south of France, might just be the mountain you're looking for.
(Sponsored Article.)
Featured fifteen times in the Tour de France, The Giant of Provence, as it is known, is one of the most gruelling and challenging  climbs to regularly feature in the Tour. But a challenge is exactly what you're looking for after all, is it not!
The mountain has achieved legendary status over the years, not least since British rider Tom Simpson died on the slopes during Le Tour in 1967. Don't worry, it wasn't the climb alone that killed him, it's more likely to have been the mixture of drugs and alcohol in his system combined with heat exhaustion. There is a monument to Simpson on the slopes and paying respect when passing it is a regular occurrence in the Tour and indeed the monument has become something of a shrine visited by the many amateur cyclists who conquer the climb every year.
Three routes up the mountain offer various levels of suffering!
The most difficult and widely used route to the top is South from Bédoin,with an average gradient of almost 7.5%. That might not sound so bad until you realise that the final 16 out of 22 kilometers have an average gradient of 8.9% and high winds are commonplace.
Ascending Northwest from Malaucène is a 21,5 km spin roughly equal in difficulty as the climb from the Bedouin side, but it can be less windy on this side of the mountain.
The third route is somewhat easier, but hey, you don't want to know about that. It's all about the suffering, right?
So, it's on your bucket list. Now, what next?
Sportacive Cycling offer guided packages with full support including a back up car complete with Directeur Sportif to hand you your water bottles, like a pro.
If you're worried about whether you will actually make to the top in one piece, SportActive guide, Martin, has some encouragement:  "We have people from age 30 to 75 and everyone makes it to the top, with our coaching and professional level support." So no pressure then!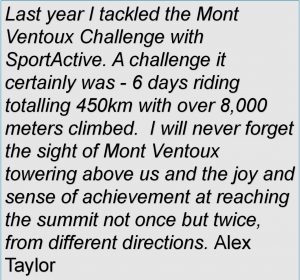 "We ride the famous Tour de France ascent from Bédoin, a distance of 22 km and a 1906 meter climb.  We also climb the route from Malaucène, famous in the Paris Nice race," Martin says,
And indeed the effort is truly worth it when you finally reach the famous Lunar Landscape, with the summit finally in sight.
"Excited, Elated, relieved and proud are the most common emotions of those who achieve the summit," Martin says.
And then of course, after the suffering comes the thrilling descent, before you head back to your hotel for a glass of wine and tick "Must Climb Mont Ventoux" off your bucket list. Though if you're like most people you will be captivated by this glorious mountain, and will want to come back and do it all again.
Elena Romero says of her experience with SportActive Cycling on Mont ventoux: "The beauty and charm of Provence in itself with the highlight of the astonishing Mount Ventoux, mixed with the wonderful sense of freedom and achievement while riding my bike definitely deserves a special mentioned on my diary. I was in pain, in shock, in love…Anyway, I think you get the idea. I LOVED my SportActive experience!"