Most of us start the New year with the best of intentions. Gyms are at their busiest at the start of January every year, but as the month goes on the numbers get gradually fewer and fewer as people lose their motivation. Goal setting has been shown to help athletes stay motivated and indeed, perform better.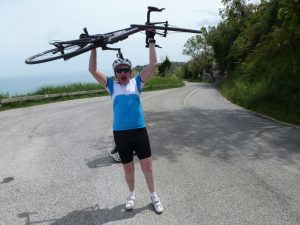 No matter whether your goal is to ride your first ever sportive, adventure race or triathalon, to complete your first 100K or  60k event with a personal best time, when training it's important to set goals for yourself. It's so easy to get in a rut fitness wise, repeating the same old routines. If you want to get fitter, ride further or faster, setting an achievable goal for yourself brings its own motivations.
Choose Your Goals for the year Be specific. Don't just say my goal is to get fitter or my goal is to go faster. Pick a target and aim for it, something challenging and exciting. Write it down.
Be realistic.  If you're planning to ride your first 160K in two weeks' time and the furthest you've ever gone on a bike is 60K, think again. By overdoing it you risk injury and burnout from over training, not to mention disappointment.
Sign Up For An Event.  Paying an entry fee for an event is a great motivator. Tell all your family and friends what you're doing and when. Post it on Facebook and Twitter etc. That way you're less likely to back out.
Plan It Out  Set yourself a training plan. If you're not sure how to go about it, ask some cycling friends or consult the oracle of Google.
Track Your Progress  Use Strava or a similar app or use a training diary to keep track of your progress and to make sure you're sticking to your training plan. Remember rest days are as important as training days.
Set Mini goals  Set yourself some mini goals along the way. Enter some shorter events in the build up to the big one. Maybe try and do a difficult climb in your best time ever, or beat your mate in the sprint to the coffee shop!
Mind Yourself  Focus on yourself, eat healthy, get enough sleep, cut back on the alcohol. Kick out those negative thoughts as soon as start they nagging at you, think positive.
Visualise  Your imagination is a powerful tool: Think how much heathier you are going to be, visualise yourself crossing that finishing line, imagine the sense of satisfaction you are going to feel.
Look Ahead  As you approach your chosen goal and it begins to look achievable, pick your next one. Use your target goal as a stepping stone to further success.