OUGHTERARD County Galway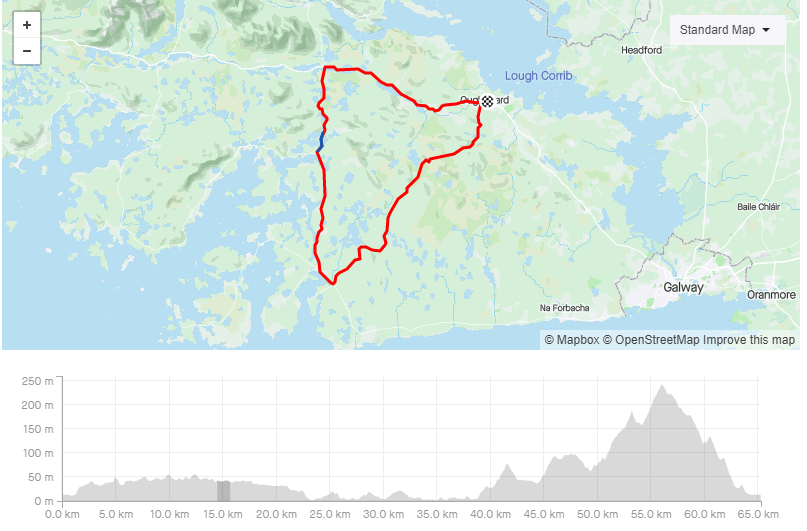 Distance 65km, Elevation Gain 600m
Thanks to David Flanagan for kindly providing this route, complete with turn by turn directions and a Strava route map from where you can obtain the GPX files for this ride.. In his brilliant book, Cycling in Ireland, you will find over 80 great cycling routes with something for everyone, across the whole island.
A loop of contrasts, the first two thirds are fast and flat while the last thir d is a long climb through remote bogland.
Even through the first stretch of the route along the N59 is busy and may not be to everyone's taste, the rest of the route is quiet and there are great views throughout.
The route is described in an anti-clockwise direction in the hope that the prevailing wind will help on the climb. Be warned that if a strong southwesterly is blowing the first two thirds of the route will be hard going as they are very exposed. From the large carpark (53.4277, -9.3167) on the east side of Oughterard follow the N59 west. This stretch of road can be busy with fast moving traffic.
As you head west the surroundings become wilder with open hillside and pine forest. At Maam Cross turn left and head south on the quieter R336. The road is flat with an excellent surface so it's fast going but don't forget to stop to take in the view across the mountains and bog. At Casla (the village is a short distance right from the junction) the sea appears on the left. Follow the shore southeast for a short distance before turning left. For the next 25km a quiet road leads through the wilds of south Connemara. With little sign of civilisation apart from the occasional cottage and the wind turbines of Galway Wind Farm you head north. The road climbs in a series of four steps, each longer than the last. The final climb through Shannapheasteen Forest averages a steady 5% culminating in a series of hairpin bends. Halfway down the fast descent Lough Corrib comes into view and it isn't long before you arrive back into Oughterard village.
Coffee Stop There are plenty of options in Oughterard. You pass the hotel at Maam Cross and a café, shop and pub in Casla.
Turn by Turn Directions
0 0 S From the carpark on the east side of Oughterard village head west along the N59.
16.6 16.6 < Turn left onto the R336.
21.9 38.5 < Turn left (signposted 'Uachtar Ard').
26.1 64.6 > Turn right at the t-junction.
0.7 65.3 Arrive back at the start