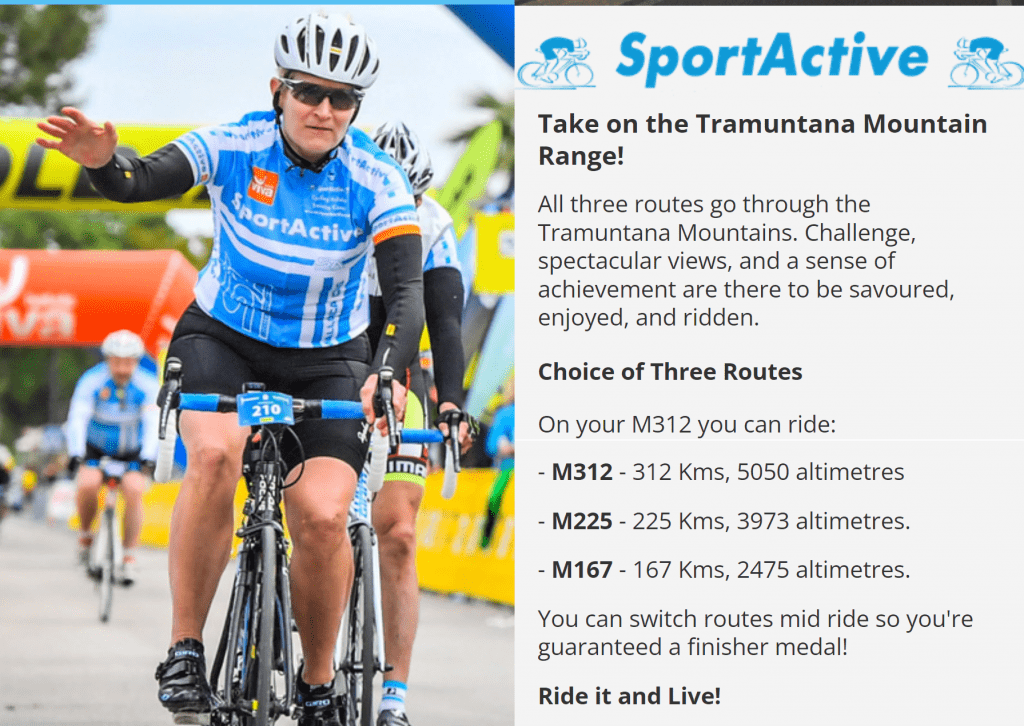 The Mallorca 312, Europe's longest amateur sportive, will take in April 2022.
Shorter routes are also available.
Secure your place now and let Sportactive take care of logistics while you just ride the event.
8500 riders take on the challenge and ride one of it's 3 routes which start and finish in Playa de Muro/Puerto Alcùdia .
This is just 5 kms flat ride from the SportActive Cycle Centre.
The three routes you can ride are:
The M312 – 312 kms
The M225 – 225 kms
The M167 – 167 kms
The basic M312 sportive package provides the following :
Event entry
 4 or more nights half board, sharing a standard studio (room upgrades available).
Total flexibility for arrival and departure dates.
Airport transfers
 Bike hire available and mechanical assistance for your own bike if needed. Private SportActive bike garage with bike mechanic
 Pre-event information meeting to give you the information you need to complete any distance of the M312. We'll provide you with invaluable advice on strategy, pacing, etc.
The perfect sportive breakfast at the hotel at 5 am on the race day
 Professional Sports Massage available (fees apply).
Regardless of the route ridden climbing is a big part of the Mallorca 312. All three routes take you through the Tramuntana Mountain Range. This Range is world famous in cycling circles with pro ­ peloton teams training here year in year out. Many pro teams such as Team Sky are based in Mallorca. In part this is down to the Tramuntana Mountain Range. In 2017 all three routes involved riding to the highest point in Mallorca, Puig Major.  Every year the organisers try and make the M312 more challenging. In 2017 there was more climbing involved than ever before. There can be no denying that fitness levels will need to be good to complete any of the M312 courses. 167 kms is a long way to ride in one day. To help you achieve the distances we provide plenty of food, drink, and advice, giving you support and encouragement every step of the way.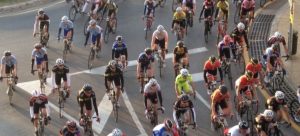 Testimonials
Hi Flora, this a belated BIG thank you to everyone at SportActive for the most fabulous and enjoyable week of cycling in Majorca. Everything was perfect – the weather, the hotel, fellow cyclists, the island the rides and most importantly the whole SportActive team. Please pass my thank you to all the team and tel Martin and Steve that my bike had never run quieter. I hope to see you all again soon. Kind regards.
Neil Morgan
Just a little note to say a big thank you again for another great
holiday(M312) with SportAtive. It was lovely catching up with you and the rest of the team and it was great seeing so many familiar faces. Asyou probably noticed we had lots of laughs! I hope you have a lovelysummer in France and look forward to seeing you soon.
Adele and Hugh MacIver –  UK Scotland
Hi Flora, Thanks so much to you and Martin for great organization and support in the Mallorca 312. I was really impressed with your set up and will be recommending it. Is there a link to photos of the event? Seems cold and grey here in Ireland since I got back. But that,s a reason for happy memories. Particularly of the finish line . All the best to ye
Pat Kiely